Sanctuary Cats & Adoptions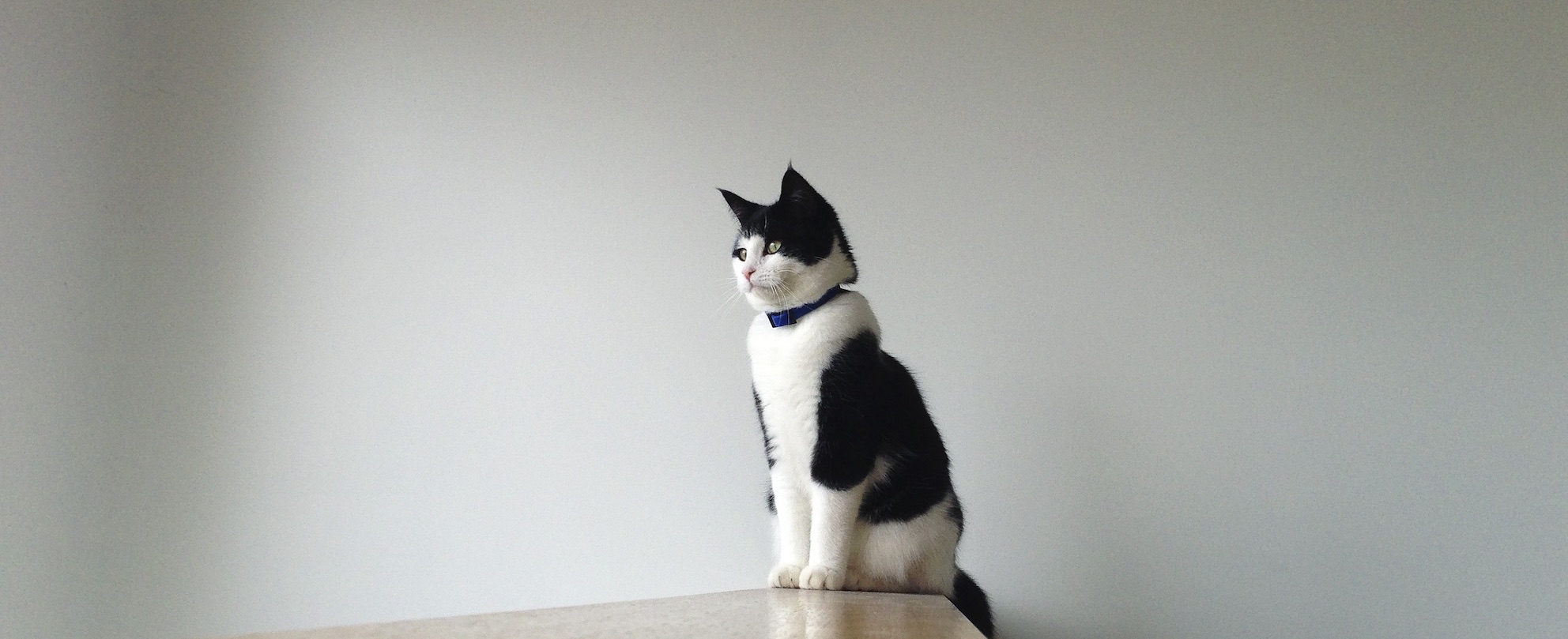 ---
All of our cats are:
desexed
microchipped
had their initial vaccination
wormed and flea treated.
We do a two week trial with every adoption, so if it does not work out we will require that the cat is returned to us and you will receive a full refund.
You can check our cats for adoption below and on our Facebook Page. There are delays with uploading our cats – this means cats shown here might already be adopted or cats that have become available are not shown here.
Once you've spotted your potential fur-ever friend, send us a Facebook message.
We will get back to you (usually within one or two days) and discuss next steps.
About Tuna
Meet Tuna
 She is a beautiful, sweet girl who came to us as a terrified, anxious young kitten. She has come a long way thanks to her amazing foster carers, and is now ready to find her furrever home.
Tuna is still a young cat at 18 months old. She enjoys snuggling on the bed with her humans at night, and loves playing with teaser toys. She can be shy at first, but loves pats and cuddles once she is comfortable with you.
Suitable for
In her foster home, Tuna has enjoyed playing with another cat friend, and she has been fine with dogs.
She would best suit a home without small children, with another cat she can be friends with.
---
About Phoenix & Purdy
Meet Pheonix & Purdy, two beautiful kittens ready for a loving home TOGETHER. This is what their wonderful foster mum has to say about them:
"Phoenix (black kitty)
5 months old. Phoenix is a little angel, she loves pats but can be a bit reluctant at times. She can still be a bit timid but only when something unusual is going on. As soon as she gets a bottom rub especially she flops and asks for more. Although loves nothing more than a play and dinner or brekky time! She goes to work making biscuits on your lap when she gets the perfect scratches.
Purdy (black and white)
5 months old. Miss Purdy loves to purr, hence her very cute name. Miss Purdy is the leader, a very curious mischievous little girl. Purdy loves lap time, kisses and plenty of pats. Very much like Phoenix she can get a bit anxious, but is always the one to investigate things first. Purdy is a very curious little kitty and often leads the way for her sister Phoenix. Both kitties have come a long way and would best suit a home together, they haven't been around children. They have socialised with many people and are friendly with most, some Phoenix can take a little longer to get use to."
Suitable for
They have seen chickens, other cats, dogs, birds, rats and many other animals we have on our property. However they are not fans of dogs! A perfect home for them would be one with plenty of space to run, play and hide, inside only as well as a home with medium to minimal noise.
They will requite lots of play time and snuggle time, although they are fine alone they really thrive off human company.
Adoption Details
Phoenix and Purdy are currently in foster care (located in care in the south of the state), please contact us now if you would like to meet them.
You can view our adoption fees on our website.
---
About Bella
Meet Bella
This is what her wonderful foster family have to say about her: "Bella is approximately 2 years old. She is a beautiful natured, relaxed and friendly cat who sometimes likes to pretend she is still a kitten. She always sheaths her claws, and doesn't bite. She is a non-fussy eater, and a very clean cat. Bella doesn't meow much, but she purrs a lot. She likes to be scratched and brushed. She enjoys company, but is also happy on her own. She was easy to train on a lead, but would appreciate an outdoor enclosed space."
Please message us if you would like to meet Bella
Suitable for
Bella has enjoyed the company of two kittens in foster care, so would probably like another cat friend.
While in foster care, she has been unphased around large groups of family of all ages, but would equally suit a quiet household.
---
About Silvester & Stallone
(Males, both approx. 3 years old)
These boys have spent the past 6 months in with their wonderful foster mum and this is what she has to say about them.
"Silvester and Stallone are the most gorgeous sweetest boys, 3 years young. They may be very shy to begin with, but once they trust you they have so much love to give. Silvester is a comedian when hes not entertaining you he will be snuggled up on your lap. He will even ask to be picked up and cuddled. Stallone is a little more reserved but still loves a good cuddle and enjoys having his long glossy coat brushed to keep it in top condition. Given a little time these boys will be the most loving family members. And the real bonus is you will never have to go to the bathroom on your own again!!"
Suitable for
Silvester & Stallone are very bonded brothers and will need a home together.
Dietary requirements
These boys require a very special home. They need a home that can commit to their special dietary needs (they have allergies to certain cat foods and are on a specific diet).
Stress-free home – They need a very calm and patient home, we can not stress this enough!! They have not had the easiest life until coming into care with their current foster mum and we really need to make sure we find the right home for these boys. If given the time to settle in and gain trust these boys will be the most loving and loyal companions.
Children – They require a home without young children.
Inside only – They require an inside only home.
Other cats – They have been great around other cats but will need to make sure they can not access the wrong foods if another household cat is on a different diet.
---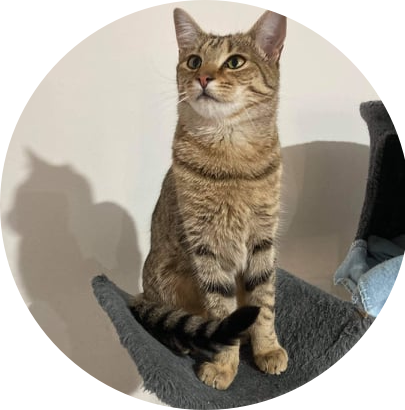 About Hope
Meet Hope. Hope is a gorgeous tabby girl, 12 months old now (Jan 2022) and such a talker. She has a lot to say and will have a full on conversation with you. She loves pats on the head and on the back. Her favourite toy is a little mouse and she will run around with it for ages! She doesn't really like to be picked up but will tolerate it. She loves being around you and never gets sick of attention. Hope has been doing so great in her foster home.
Suitable for
Coming from a foster home with other cats, Hope is very well socialised however best suited to a home without young children.
Adoption Details
To find out more information about this animal, or to organise a time to see them, please contact us now. Viewings are by appointment only as the cat rescue is run on a private property.
You can view our adoption fees on our website.
Not ready to adopt?
SPONSOR OUR SANCTUARY CATS
Why we need your help
Sanctuary cats are rescues that are often abandoned or have been born in an environment without human contact, they are very timid and some are very afraid of people. Some will eventually trust enough to accept pats from people they know, but generally these cats will not be adoptable due to their extreme shyness. We need your help to continue provide regular veterinary health checks/vaccinations, food, litter other supplies as we don't receive any funding and rely solely on donations.
What can you do to help?
From just $20 a month, you can sponsor one of our beautiful Sanctuary Cats!
You will receive an email every three months with an update on your cat and some lovely new photos.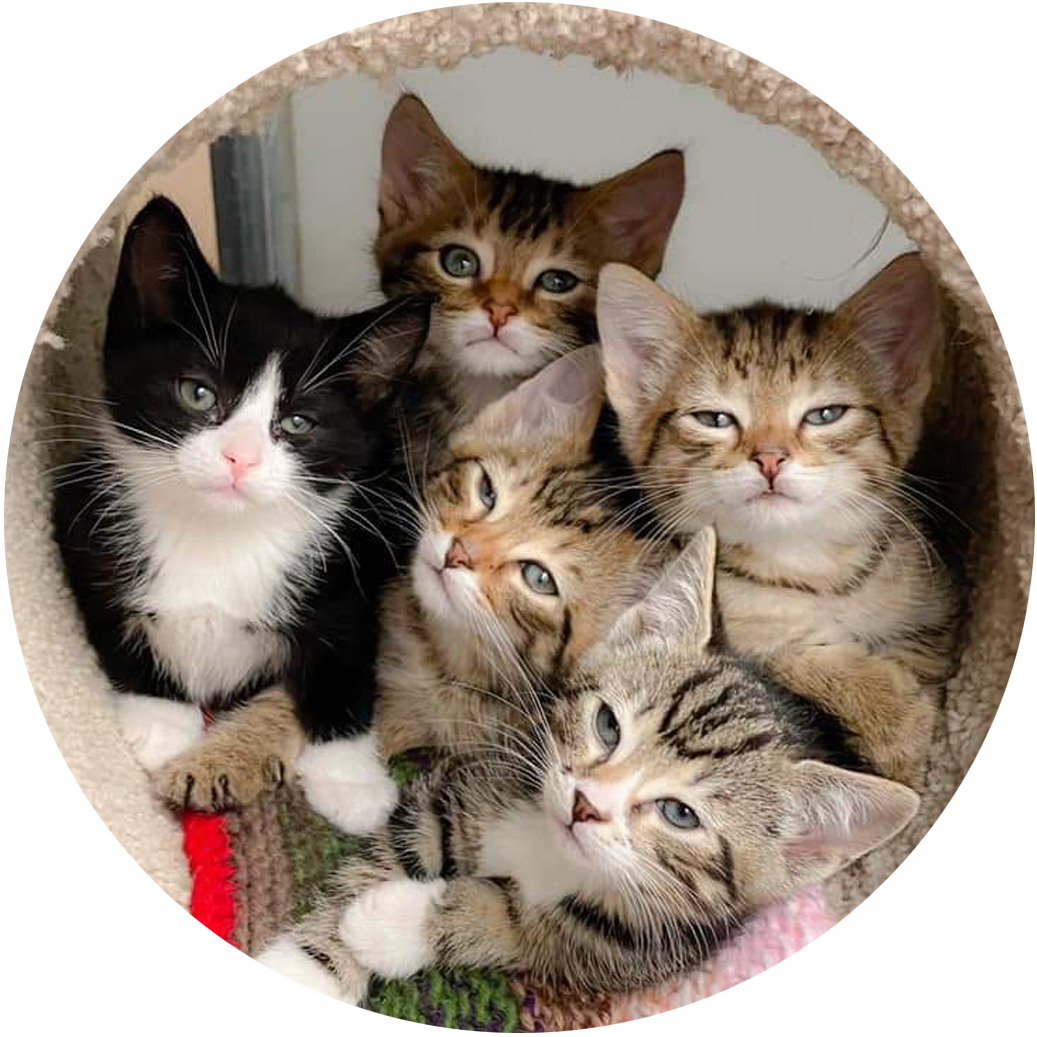 KITTENS, KITTENS, KITTENS!
Our partnership with Petbarn Rosny 
We currently have some gorgeous cats and kittens available for adoption in Petbarn Rosny (25 Bligh St, Rosny Park TAS 7018).
You can meet them anytime during their opening hours Monday to Saturday 8.30am to 6pm and Sunday 10am to 5pm. If you have previously spotted a kitten you love, call the team at Petbarn to see if it is still available to avoid disappointment.